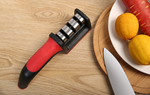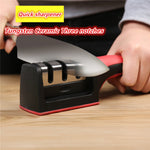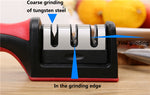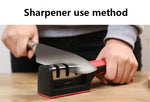 Professional 3 Stages Sharpener Knife Grinder
This is a Demo Online Store. No orders shall be fulfilled.
Features:
Type: Sharpeners
Feature: Eco-Friendly
Certification: CIQ
Model Number: xy168
Metal Type: Tungsten steel
Product Description:
3-Slot Sharpening System
1. Diamond Rod -- Coarse sharpening
2. Tungsten Steel Blade -- Fine honing
3. Ceramic Rod -- Finishing grinding
Premium Quality
Made of stainless steel and solid ABS plastic, it is durable and long-lasting to use.
Streamlined design, more practical, compact and light than traditional stone sharpener.
Easy to Use
Simply place the blade in each slot, and gently pull the knife for several times.
(NOTE: Pull/push it in ONE direction with slight downward pressure, DO NOT move back and force.)
Easy to Clean
Designed with a detachable grinder head for easy clean.
(NOTE: After sharpening, please wipe with a wet cloth, and then wipe dry. Use a soft brush to clean the slots.) 
Fit Any Blade Size
Works on grinding any sizes of kitchen knives, such as fruit knife, chef knife, cut bone knife.
(NOTE: NOT for serrated knives or scissors)
CAUTION:
1. Not used for serrated knives or scissors.
2. Don't push and pull your knife back and forth. Use one direction only.
3. After use, please clean the sharpener and then wipe dry.
4. Don't wash the sharpener in the dishwasher.
5. The ceramic and metal blade may turn to black which is a normal phenomenon.
6. Keep out of the reach of children.
7. For slot 1, please sharpen carefully, if the knife is not blunt, please use slot 2 & 3 directly.
Specification
Material: Stainless steel + ABS
Weight: 6.56 oz
Dimension: 8.07 x 1.85 x 2.95 in