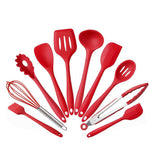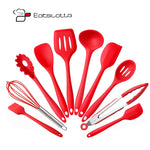 Silicone Kitchen Utensils (10 pieces)
This is a Demo Online Store. No orders shall be fulfilled.
Features:
Type: Cooking Tool Sets
Brand Name: OnnPnnQ
Feature: Stocked
Material: Silicone
Certification: FDA
Product Description:
Silicone Kitchen Utensils Set – Durable, Non Stick Coating, Ergonomic Handle & Dishwasher Safe Cookware – Heat Resistant Silicone
Prevents scratches on cookware
For Camping and Family used and for the gift.
Silicone has made cooking so much easier and these utensils are geared for special uses.
They haven't stained, changed shape, easy to clean and they stay cool when handling.
Professional or home cook, this set of 10 kitchen utensils gives you all the tools to complement your dishes and make cooking much easier.

10 piece set contains every essential kitchen utensil.
1 x Ladle
1 x Pasta Fork
1 x Spoonula
1 x Slotted Spoon
1 x Tongs
1 x Turner
1 x Large Spatula
1 x Whisk
1 x Small Spatula
1 x Basting Brush

Product size
Ladle:11.4in/cm
Pasta Fork:9.8in/25cm
Spoonula:11in/28cm
Slotted Spoon:10.6in/27cm
Tongs:10.6in/27cm
Turner:12in/30.5cm
Large Spatula:11in/27.5cm
Whisk:9.8in/25cm
Small Spatula:8in/21cm
Basting Brush:8in/21cm
Tips: 
MULTIPURPOSE: 
Suitable for microwave oven, oven, dishwasher cabinet, steamer etc. 
DISHWASHER SAFE, EASY TO CLEAN: 
Our premium non-stick silicone utensils set is a breeze to clean and can be either
hand washed or tossed in the dishwasher for the ultimate in convenience.